Golf Improvement
Golf Improvement,
the stages of how to play better golf
Golf is a fun sport enjoyed by many people around the world. It is addictive, in so far as almost every golfer continually spends time and money trying to hit the ball further and straighter.
With today's technology, it is much easier than it used to be to do this because It's not that long ago that if you wanted to improve you had to go to the practice area at your golf club and hit old Dunlop 65 or Spalding golf balls and hope you were doing it correctly.
Back then there were very few PGA teaching professionals and driving ranges had still to be born. If you wanted to play better golf you bought a golf book written by a famous PGA golfer and practiced the tips they wrote about in their book.
How lucky are we today
With modern technology, we can search the internet and get almost anything we want, including information on how to Play Better Golf and lower our handicaps. However, reading how to do it won't improve our game.
The only way to improve is by practicing in a controlled manner and not just thumping balls down the range. We may no longer need to go to a cold windy practice range as we did in days gone by, but we still need to practice.
Fortunately today there are good quality golf practice ranges in every area of the country and most have covered bays and some even have heaters.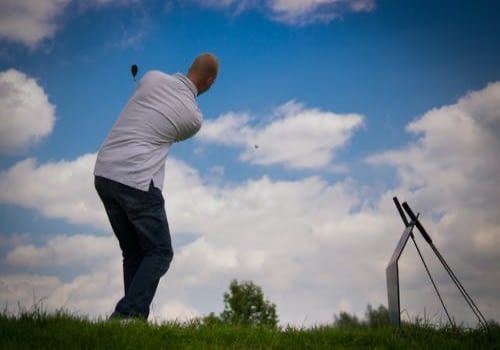 Golf Improvement
Stage one – Find out where you need to improve.
This sounds logical but I will make a bet that most amateur golfers will not know the areas of their game that are above or below average for their Age, Handicap and Gender.
I also suspect they do not know their clubhead swing speed which is central to gaining distance and if their shafts and golf balls are suitable for their handicap. If you take the time to search the internet you will find isolated articles that will show scoring stats for various categories of amateur golfers.
However, it is a long laborious way to get all the information you need to be able to assess your golf game in a meaningful way.
How good is Your Golf?
Fortunately, we have a solution
Our A5 Handbook titled "How good is Your Golf?" and is the only reference book on the market that has a complete set of scoring stats for amateur golfers.
It will enable you to analyse all areas of your game from Tee to Green and establish where you are above and below average and importantly where you can improve.
The stats are for all golfers including Male, Female, and Junior from 5 to 80 years, and are presented in easy-to-understand charts and tables.
It has 28-pages including charts that will let you know how good your handicap is by comparing it against other golfers who have the same handicap and are the same age and gender.
Stage two – Get Professional Advice.
Once you have analysed your game and know the areas where you need to improve we recommend that you speak to your local PGA Teaching Professional to get the expert advice you will need on how to improve these weak areas.
We spend a lot of money on golf equipment and green fees, yet most of us spend very little on getting professional advice on how we play golf. In addition to improving our golf skills, your local PGA professional can assess if your clubs and particularly your shafts are the correct length for your height and if the flex and heads are correct for your handicap.
By ensuring we have the most suitable clubs for our height and skill set we are giving ourselves a much better chance of lowering our handicap. To summarize, analyse all areas of your game and for a relatively small investment get your PGA Teaching Professional to set out an improvement program to Play Better Golf.